Designing management development programmes
Our concentrated methods speed up the learning processes and offer a high return on management time invested. We quickly give your people an intellectual, emotional and practical commitment to new attitudes and skills.
The chairman and managing director of TIMS Holding B.V. , Sybren Tijmstra, has some 30 years of experience in supporting the implementation of business strategies by designing very action oriented management development programmes with companies around the globe. A detailed needs analysis and a survey of the learning styles of the participants form the basis for our design process.
This process is illustrated below:
Vision & strategy
The implementation of a company's strategic intention shapes the challenges for its management team at all levels. Therefore, the mission of TIMS Holding B.V. begins by familiarising itself fully with the company's vision and strategy.
Identification of competencies
To ensure the successful implementation of its strategy, the company will almost certainly have identified the required competencies - knowledge, skills, behaviour, attitudes etc. Tt will also know which competencies are necessary at each management level.
If necessary, TIMS Holding BV. can and does involve itself in this activity on behalf of the client.
Designing the learning objectives
Once the inventory of competencies and target audiences has been determined, TIMS Holding B.V., together with the client, defines the learning objectives for each audience. These learning objectives will then be the guidelines for the didactical approach TIMS Holding B.V. uses to support the corporate strategy implementation process.
The matrix below shows an example of such a management level / competencies inventory approach: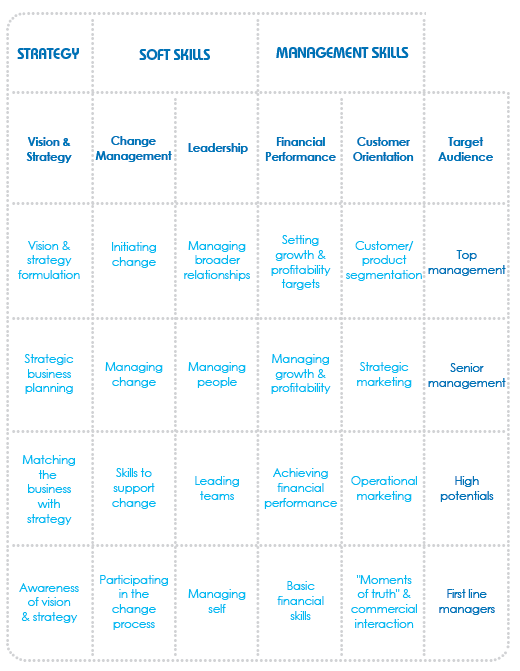 Determining the learning styles of participants
If the client agrees TIMS Holding B.V. uses the Honey & Mumford learning styles analysis to identify the learning style preferences of the participants in the management development programmes.
This allows us to create a blended learning environment (written, verbal, visual and experiential) which optimises the results of the management development efforts.